15 best modified Mahindra Scorpio never seen
Mahindra Scorpio has been in the market since the year 2002. Since its launch, it went on to become Indias one of the most favorite SUV. due to its macho look and huge dimensions but with a subsequently lower price it was a great value for money car. As users started buying the car the modification market also opened their doors to show off their creativity in modifying the Scorpio.
Even Mahindra has also opened there in house modification center where you will get to enjoy any modified Mahindra cars according to your taste. along with that, you get the advantage of not losing your warranty if you are planning to buy a Scorpio or any other Mahindra car. Hence here is a list of Scorpios that have been uniquely modified by their owners.
Lifestyle Scorpio
Scorpio getaway is a lifestyle vehicle not so famous in India but modifiers never leave any chance so here is one of the modifications of Scorpio Getaway. This car over here features a Custom made Roof Rack Which also houses LED bar light. I'm off-roading vehicle is always incomplete read out in offloading bumper send this car JDM spec off road bumper has also been installed which all 2 houses the bull bars. This car over here also features at least ground clearance hands a lift kit has also been used and along with that 32″ offroad tires on custom steel wheels have been installed in this car take on the drama. how old this car has been beautifully modified and looks perfect for taking it to any way you want.
SP designed Scorpio
 another Modification over here is a monstrous looking Scorpio. this is SUV is designed by his SP design studio. good modifiers have successfully try to inculcate the American muscle look in it. Modifiers have changed the front face of the Scorpio, be it the boner or headlamp cluster or the bumper, everything over here has got been changed.
Going towards the side it's noticeable that it has been chopped out. this will give a feel of a pickup car but summarizing it as a very good and proportional modification. This car is largely indistinguishable on the back also, a new tail lamp has been used and also gets mounted the spare wheel to take on the SUV look. The alloys are a tad small but good looking and this car uses a thicker profile of tires for better offloading capabilities.  Overall, a beautiful modification is done by the SP design studio.
Scorpio Limousine
Everyone has a dream of owning a limousine, It's a great feeling of owning that long wheelbase car and enjoying the luxury and with everyone inside it and who does not enjoy an attraction when our car moves out on the road. but these all things come at a price that is above the size of some of our wallets. hence this has open doors of modifications so they chose ever reliable Scorpio for their luxurious and comfortable limousine-Scorpio over here is not at all road legal but you can still enjoy a fair bit of attraction on the road.
Elegant off-roader
This Scorpio has not got any significant modification but as incorporated some few smart cosmetic changes that have enhanced its look. on the front it's the new off-roading bumper that has replaced Scorpio's originally plastic bumper on it there are LED lights and a big LED aux lamps at the front.
The grill of the Scorpio has also been changed and a mesh grill has taken the place. another attracting part of this modified Scorpio is its alloys which look quite funky but it looks very nice from the profile. It also gets hummer like lights on the top and also has a snorkel installed in it. overall it's quite minimalistic yet a remarkable one.
Daunting off-roading Scorpio
This Scorpio over here again gets an off-roading bumper but unlike different modified Scorpios this gets a steel rims and higher profile tires for better off-roading capabilities. this car also has a snorkel fitted in it and bonnet mounted aux lamps. overall the owner has also tried to change the design of the headlights and used black films to take on the new look. it's another quite simple yet daunting design.
Orange sports Scorpio
This Scorpio over here is a totally kickass modification. the whole car has been designed quite beautifully be that the choice of stickers or the funky orange color paint everything adds on to the appeal. on the front, this Scorpio has everything changed but retains its original signature look the bumper is new and has a much more sporty appeal the grill has also been changed.
The headlights though are the original unit but inside it's all changed. it's all blacked out and projectors and ER else have been installed in it the boner though remains unchanged but few modifications have been done to enhance it re strips are also being used in this Scorpio.
Red Sporty Scorpio
This modified Scorpio is colored in a great red color paint on the front a Scorpio houses for the new translated front grill and a brand new sporty bumper housing the LED DRL. it also gets a set of aux lamps on the front and new housing for the headlamps. though the design of the headlamps is the same as original Scorpio but inside it's all new, finished in all black and 2 projectors each have been installed in it it also houses another set of LED DRLs. the bonnet retains the same design but some cosmetic changes have been made.it also has a snorkel. the wheels of this car get a thicker profile tires.
Yellow pick-up modified Scorpio
This is yet another Scorpio where it gets treatment of a pick-up vehicle. this Scorpio has been finished beautifully in lemon-yellow color paint and the cladding has been finished in black to get a rugged appeal.
A new set of alloys and off-roading tires are also installed. on the back, this also houses and spare wheel to add on to the SUV appeal. the lights of this car are encased in a matte finish black color casing. overall it looks quite good and people will look on to you when you hit the roads.
BMW modified Scorpio
This Scorpio over here there's not get any extra modification accept the classy looking front design it's one of our favorite brands look that is BMW. the owner of this Scorpio has tried to recreate a BMW look using a Chrome mesh grill. it also gets a dual tone treatment and Race strips on the bonnet
Bland looking modified Scorpio
The Scorpio over here is one of the most outlandish modifications that you have ever seen. this car is specially designed for off-roading but the owner has made the front of the car totally bland to look at. though these types of modifications are good for off-roading but a little bit of good looks would have given a much more enhanced feel to the car. This car also gets some added accessories like a rack on the roof and some knickknacks to help the offroading experience in a better way.
Tractor modified Scorpio
This Scorpio has no significant changes on its design part but the major change which is the most outlandish one lies on the wheels have been extended out of the vehicle and has been installed with much larger size tractor tires in it.
We don't know why the owner has done this type of modification but is quite weird to look at. though these type of modifications are not at all recommended by Turbodrive as these are not at all road legal but if you want to keep it as a showpiece in your home or your farmhouse then just go for it.
Weird modified Scorpio
The Scorpio over here is one of the biggest design failures I've ever seen. though designs are a subjective matter and it may depend on your taste but I think so it's quite a wrong mess when you try to inculcate different design language in it .starting off with this car actually it wanted to recreate the design by incorporating a mirror effect feel in it. the dual grill that is installed in this car or the modifications on the bonnet that in cases Honda Civic headlights, everything looks quite a mismatch in this car.
The wheel arches have also been extended out and to look at these this car looks quite an out of mind modification among all the modified Scorpios we have in this list. it's one of the most unique yet weirdest designs, it's up to you whether you want such a radical design being done on your car!
Full-size Hummer
The Scorpio over here is a beautiful iteration of an ever famous muscle SUV the hummer. Unlike our Maruti 800 modification list where the car was just a front look of hummer but over here the modifier has left no stones unturned in modifying it.
This Scorpio has been stretched out largely and the front also gets the hummer grill. the rear end gets a new set of tail lamps and on the inside, this Scorpio houses huge sets of sofa to accommodate everyone inside it. On the top, it also gets a hummer like lamps. do watch the video
If you want to see the amazing modification of Maruti 800 into a hummer then click on this link- https://turbodrive.in/15-new-and-unique-modified-maruti-800-cars-you-have-never-seen/modifications/
In-house Mahindra modification- Scorpio Darkhorse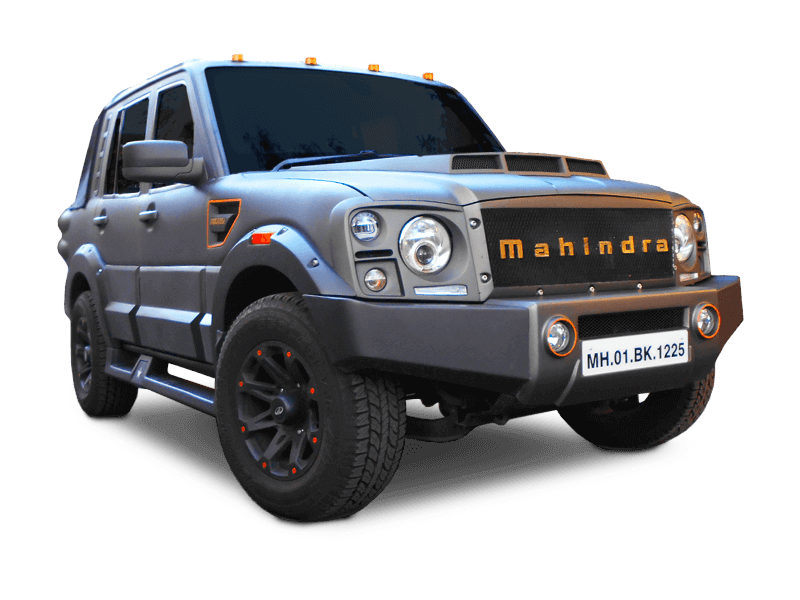 This pick-up modified Mahindra Scorpio over here is none other than an official Mahindra car. Yes, it is a modification done by their in-house customization Department. the headlights of the Scorpio have been replaced with new round headlamps housing and LED projectors along with DRLS and indicators have been installed. the bonnet also houses a new air damn.
the bumper has also been revised and houses aux lamps in it. On top, the hummer like lighting is also there and from the side, there are few minimalistic cosmetic changes and this vehicle. The car also gets a new set of black alloys that looks quite classy
Mahindra in house Pick-up Scorpio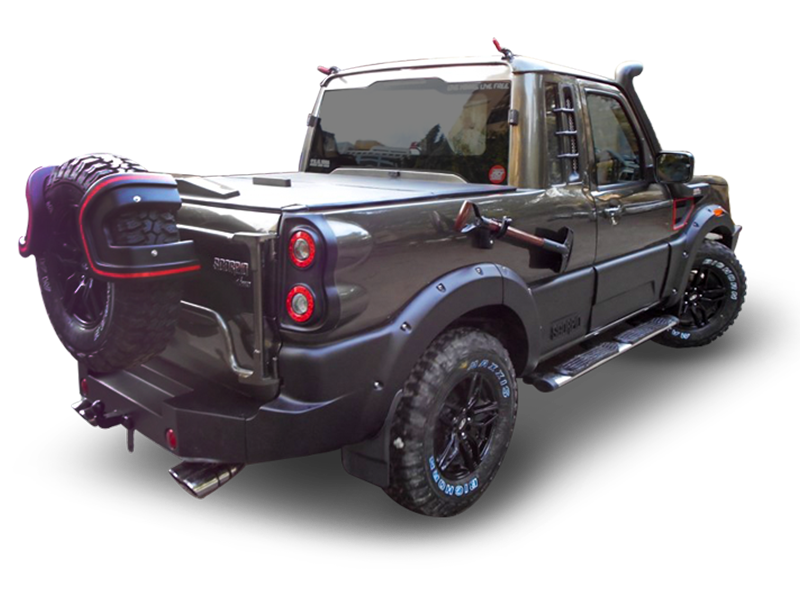 This Mahindra Scorpio is pick up based modification. nothing is much changed over here but some cosmetic changes are there. there are few places where smart use of plastic has been done to increase its looks. it new sporty black. the tail lamps as seen in this picture are also new. the spare wheel also gets some trendy plastic/ fiber inserts. A snorkel has also been fitted on it. overall, it's the total package of looks and smart utility. this customization is done by Mahindra's in house customization Department.
That's all in this blog, in the next blog we are trying to cover other different Mahindra Scorpio. Hope you have got some idea of how to modify your car or what a Scorpio modification capabilities are! these modifications are all because of the love of the people towards this car. Do tell us about your favorites or the worst modification you felt in this list in the comment section below!
do subscribe to our Turbodrive PRO subscription to get customized and premium content directly to you at totally free of cost. If you want to get an idea of how modification of Maruti 800 is done into a Hummer here is the list of 15 top Modified Maruti 800 cars you have never seen!