New Toyota compact SUV launching! India launch ahead?
Toyota has been in the market for long along time but in terms of taking out it's few global models in India, it has been always hesitant in doing that. but now it seems that Toyota and its sub-brand Daihatsu has something stylish and promising product in hand, it a new Toyota compact SUV.
Daihatsu & Toyota's new SUV released on November 5, 2019! This is DN Trek, new compact crossover at the 2017 Tokyo Motor Show.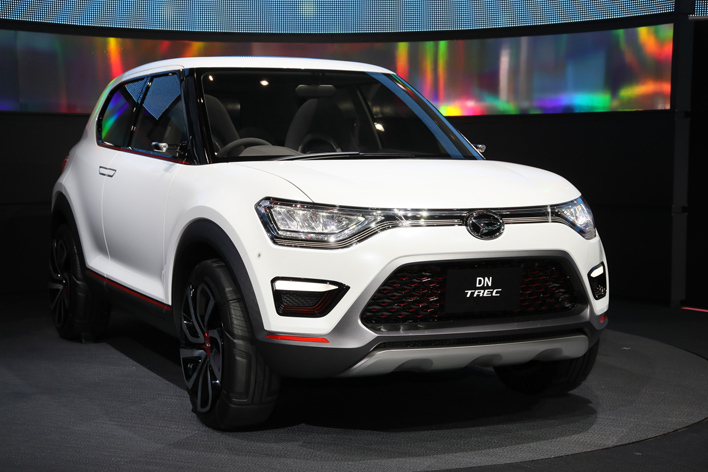 The DN Trek will be supplied to Toyota as an OEM, Toyota would likely name it as Toyota Rush. It is built and developed on a totally new platform "DNGA". the Rush is quite popular in South Asian markets. Toyota New Global Architecture (TNGA) will be introduced in this car.
The engine is expected to be a 1-liter, 3-cylinder turbo petrol engine. Toyota Rush SUV will measure around 3.98 m in length putting it directly against the compact SUV contenders in India. Maruti Vitara Brezza, Tata Nexon, Mahindra XUV300, Ford EcoSport, and Hyundai Venue
In terms of features it can be loaded to the brim like 360 ​​° Safety Assist (Omnidirectional Driving Support System), LED light system and a single lane of the expressway automatic accelerators, brakes, color instrument display, a wide touchscreen infotainment screen. , and steering, and assists with driving technology "Pro-Pilot". The interior design of the concept is quite unique and fresh.
According to media reports Toyota is working towards bringing in its rebadged Vitara Brezza. In that case, how the Toyota Rush will fit in India line-up is yet to be seen or will this ever be brought in to this competitive market where Toyota has been ignoring it since years.
We think, considering the immense popularity of the sub-4m SUV segment in India. Toyota may launch its new compact SUV in India and position it slightly above the Brezza based model.
But considering its failure in launching a competitive product since many years and the crowded compact SUV segment in mind its a job that Toyota will happily ignore and want to work out with a rebadged brezza on the list.
Do subscribe to our Turbodrive PRO subscription to get updates of the launch details of Kia seltos and other interesting content directly to you at totally free of cost. If you want to get an idea of how modification of Maruti 800 is done into a Hummer here is the list of 15 top Modified Maruti 800 cars you have never seen!